Vietjet has officially inaugurated the direct flights connecting Mumbai with Vietnam's capital Hanoi and Ho Chi Minh City, the country's largest city.
The inaugural flight ceremony of the two direct routes jubilantly took place at Chhatrapati Shivaji Maharaj International Airport (CSMIA) in Mumbai with the attendance of Consulate General of Vietnam in Mumbai, the airport authorities, Vietjet's management representatives and hundreds of passengers onboard the debut flights.
Vietjet's Vice President Do Xuan Quang, said, "Following our launch of New Delhi – Ho Chi Minh City/Hanoi services, we are delighted to launch two more direct routes between Vietnam and Mumbai. We believe that the two services from Ho Chi Minh City and Hanoi to Mumbai as well as the coming Phu Quoc – Mumbai route will strengthen the on-going relationship of Vietnam's two biggest cities with Mumbai. The services launched between Ho Chi Minh City/Hanoi and Mumbai operate four and thrice weekly flights respectively and we expect to increase the frequency in coming time to meet customer's demand."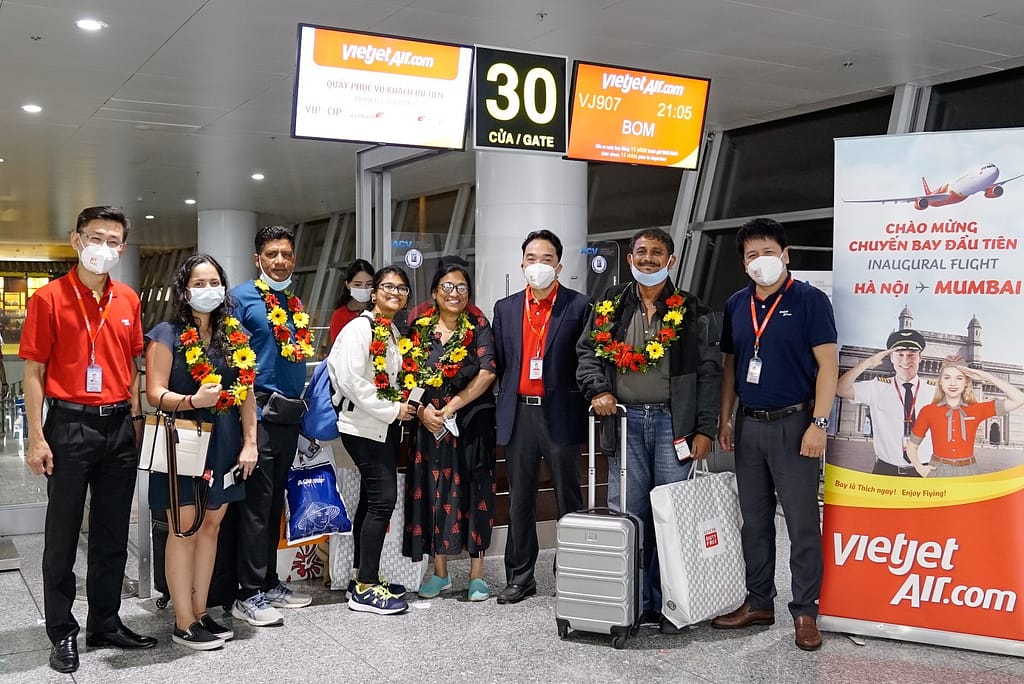 Speaking about Vietjet's launching its network from Mumbai, CSMIA Spokesperson said, "CSMIA is pleased to partner with Vietjet and launch new direct flight connectivity between Mumbai and Vietnam. These services by Vietjet will offer diversified travel destinations and flight schedules, as well as add direct flight options to CSMIA's route network from Mumbai to Ho Chi Minh City and Hanoi to further boost travel opportunities between the two countries. CSMIA has been working extensively to provide connectivity to destinations across the world and creating new routes for consumers, while offering best-in-class facilities and services along with ensuring safety and comfort while travellers transit through the airport."
To celebrate the occasion, Vietjet will offer 19,999 super-saver tickets from just USD 0 () applied to all flights between Vietnam and India with travel duration from July 1 to December 31, 2022 (*). Promotional tickets are up for grabs daily from 10:30 AM of June 7 till 10:30pm of June 9, 2022, via www.vietjetair.com, Vietjet Air mobile app, and Facebook page www.facebook.com/vietjetvietnam (under section "Booking").
Besides the Mumbai – Ho Chi Minh City/Hanoi services, Vietjet's direct routes between New Delhi and Ho Chi Minh City/Hanoi currently operate thrice weekly flights on each route. From September 9, 2022, the Mumbai – Phu Quoc route will commence operation with four round trips per week while the New Delhi – Phu Quoc will operate with a frequency of three round trips per week.
Vietjet's direct services between India and Vietnam are expected to ease people's traveling to Vietnam and making connecting flights the country's top tourist destinations such as Phu Quoc, Nha Trang, Da Nang, Hue, etc. and other regional destinations including Bali, Bangkok and Singapore, etc.
Travelers to Vietnam have enjoyed a completely pre-pandemic fashion as the country scrapped the Covid-19 testing requirements for all international arrivals from May 15, 2022 regardless of vaccination status. The new ruling makes Vietnam the first in Asia Pacific to fully open to international travelers.
Located in the heart of Southeast Asia and home to a rich culture, diverse natural landscapes, an extraordinarily delicious cuisine and friendly local people, famed for their warmth and hospitality, Vietnam has been a favorite tourist destination in recent years, drawing more and more world travelers, and routinely receiving praise from leading global travel magazines. Hanoi, the capital city with over a thousand years of history, is home to enchanting lakes, unique urban areas such as the bustling Old Quarter and an array of fascinating heritage buildings, while Ho Chi Minh City, the country's leading economic, financial and tourism center, is a vibrant destination with incredible restaurants, shopping and nightlife.
hello@hospibiz.com