Technology is taking the lead in helping hotels recover from the COVID-19 pandemic. Contactless technologies are enabling hoteliers, and restaurateurs to create a safe and secure environment by avoiding non-essential interaction with staff. Rajeev Chakravarty, Founder – CTO of Mindlabz Hospitality, shares his views on the rapid technological transformation of the hospitality industry brought about by COVID-19.
It's evident that the coronavirus pandemic has accelerated the technological transformation rate in the hospitality industry. Let's look at six tools that have played a vital role in this transformation witnessed worldwide.
QR code menus
Shared menus can quickly spread the virus. The simplest way to safeguard employee and consumer health is by using every opportunity to move touch-points online. Thankfully, QR code menus are helping in avoiding surface contamination at restaurants, bars, and hotels.
Old plastic and paper menus have been replaced with QR codes. Customers need to scan the code with the phone camera and wait till the restaurant's menu appears on the screen. Bars and restos are saving a lot of money spent on paper and other materials. Besides, they can also easily make changes in the menu without spending time and resources to print a physical copy. Reports suggest that consumers appreciate restaurants that have a QR code menu.
Chatbots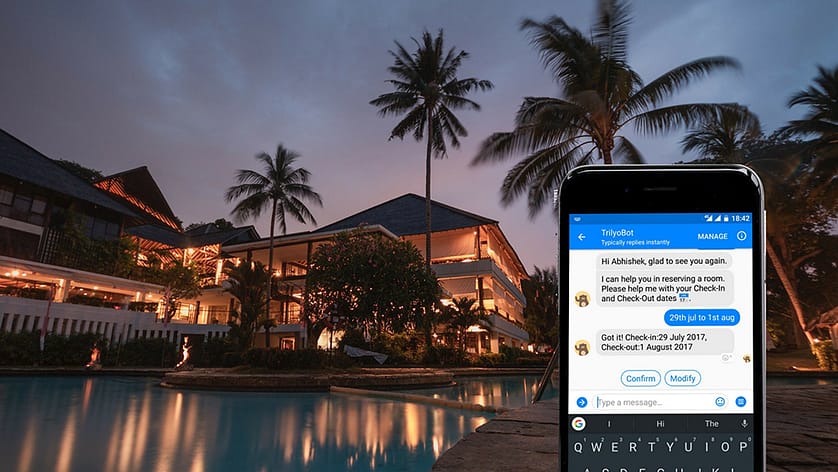 Physical distancing and other norms have forced several sectors to operate with limited staffing. Fortunately, AI-ML-powered chatbots emerged as a savior. Several studies point out how these tools helped firms when call centers were shut during the COVID-19 pandemic.
The most appreciated types of chatbots in the hospitality industry are keyword recognition-based, menu/button-based, and contextual chatbots.
These tools offer accurate information and handle queries faster. This results in a great guest experience. From theme parks, event planning companies, transport firms, lodges, and hotels to restaurants, almost everyone has deployed chatbots to handle online queries.
AI-powered contextual bots can extract relevant insights from customer data and offer products or services that best suit customer preferences. Chatbots can manage consumer interactions on WhatsApp, FB Messenger, and on the company website. The tool helps in resolving basic queries. It enables front-desk executives to focus their time and assist guests in complicated matters.
Elevators with voice-activated panels
Due to touchable buttons, surfaces, and limited air circulation, elevators can quickly spread the virus from human to human. People have their ways to avoid touching those buttons. But, it's obvious that hotels and restaurants cannot recommend guests to use toothpicks to push buttons while inside the elevator. So, most of them have larger vents, voice-activated panels, and ultraviolet-light disinfection units installed in the escalator. Case studies have pointed out that a combination of these tools helps ensure guest and employee safety.
Mobile phones instead of plastic key cards
Several hotels around the world have installed digital locks that accept cellphone-generated digital keys. If the guest prefers online check-in, they do not need to wait at the front desk to collect keys. All that visitors need to do is download the hotel app. Once guests check-in, they automatically receive the digital key on their device. During their stay, guests can use the same digital key to access other hotel amenities. They can also share the same with others who use their room.
During the pre-COVID-19 era, only top hotels like Hilton and Marriott had deployed these systems. Now, mobile keys play a crucial role in a contactless or mobile guest journey.
Automatic or motion sensor touchless doors
Automatic and sensor-based touchless doors play a crucial role in limiting the spread of the coronavirus. Hotels prefer motion-sensor-based or wave-to-open switch-based truly touchless doors. As a part of the touchless operation, establishments have also deployed doors with access control readers that operate with digital keys on smartphones. Some of the recently published reports have indicated a drastic rise in demand for such doors.
Inclusion of flexibility and technology factor in space planning
For facilitating physical distancing and inclusion of technology, hotels, restaurants, and resorts have already begun adapting design changes. A significant focus is being given to implementing contactless technologies and ways to elevate property-wide hygiene. Some hotels have already redesigned their guest rooms and common areas to integrate tools like automated cleaning robots. A recently published column in Washington Post has rightly pointed out; cleaning bots are just the beginning of the hospitality revolution.
Until 2019, most of these tools were considered as add-ons to enhance the guest experience. Now, they have become crucial requirements for the sector. The change in consumer behavior has forced hospitality industry players to expand the role of contactless technologies.
About the author
Rajeev Chakravarty is a technocrat with a whopping work experience of 18 years in the hospitality domain. He is the Founder- CTO of Mindlabz Hospitality. The firm offers future-ready and customizable solutions that suit the hospitality industry's unique needs in the post-pandemic world.